Monday. 10:00AM-9:00PM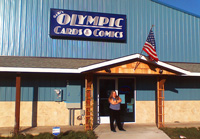 Tues. - Sat. 10:00AM-Midnight
Sunday 10:00AM-6:00PM
4230 Pacific Ave.
Lacey, WA 98503
(360) 459-7721
Go to "Store Location" in the navigation bar to the left for directions to our new big blue store (about a half block east of where the old one was).
Welcome to the Olympic Cards and Comics website!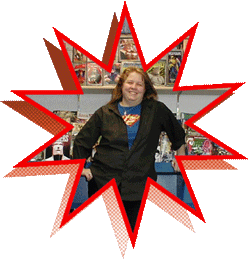 Gabrielle M. Shephard - "Gabi" to long-time fans of the store - began working at Olympic Cards and Comics in 1990, at the age of 15. In 1993, when the store threatened to close, Gabi purchased the business. Today, Olympic Cards and Comics is a thriving one-stop shop for all of comics, gaming, and collectibles enthusiasts!
Olympic Cards and Comics began as a 1,100-square foot shop in South Sound Mall. In the winter of 1998, Gabi moved to a larger, 1,700-square foot location behind the mall. In Jan, of 2002, Olympic Cards and Comics moved a 3,600-square foot location at 4129 Pacific Ave, in Lacey, Washington. On March 1st, 2008 we moved to our final (for real) location of 7,000 sq ft.
Our new shop was built from the ground up. It truly was built on the love, blood, sweat and tears of everyone in this community. I have been truly touched by the commitment and investment of the people of this community. I can not thank you enough for the support.